Truck Shipping Containers
Business grows by working with proven solutions providers. So when several of the world leaders in the small package delivery industry needed Truck Shipping Containers, they researched, investigated and contacted The Granger Plastics Company.
Granger Plastics not only designed a container to meet their myriad of needs, but helped to keep the functionality and safety of their employees in mind while saving each company literally millions of dollars in maintenance and labor, while increasing operations efficiencies. The Granger Plastics Company further pursued this innovation and went to market with the Truck and Cargo Container Series.
The Truck Shipping Container by The Granger Plastics Company yields an unprecedented 1/2″ thick polyethylene wall. Couple the 1/2″ thick wall with the rotomolding process and you have one incredibly durable container! The entry has an ergonomically designed cargo net for easy loading and unloading. Tri-fold doors are also available by custom order. The Truck Shipping Container aides in maximum utilization of freight space and minimize material handling, thus offering a tremendous cost reduction in manpower.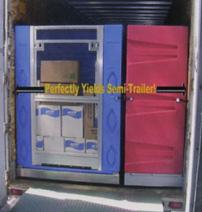 The Truck Shipping Containers evenly yield out 48′ trailers (26 units) and 53′ trailers (29 units). With a huge weight capacity of 3600 lbs. per container and with a volume capacity of 75 ft., The Truck Shipping Containers allow for large yet secure storage of freight.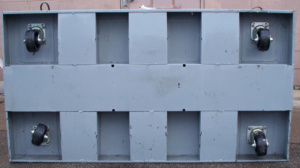 Truck Shipping Container Base
The steel base of the Truck Shipping Container can be customized to utilize existing conveyor systems, thus adapting or replacing older, less durable containers that eat away at maintenance budgets. Various caster arrangements are available and as always, any color or customized colors are available, so matching your specific color or shade is never a problem.
In-house design engineers are available to create a specialized container to meet specific product needs maximizing efficiency and minimizing loss of both product and time. Let Granger Plastics become a partner with your company to reduce material handling, labor costs and maintenance with the Truck Shipping Container!
Truck Shipping Container Features
Interior Dimesnions [32″(D) x 60″ (W) x 72″ (H)]
Exterior Dimensions [34″ (D) x 62″ (W) x 77.5″ (H)]
Ergonomic Design
26 Units yields 48′ Trailer
29 Units yields 53′ Trailer
Tri-Fold Door for easy load/unloading
Maximum utilization of space
Reduced material handling
Maximum capacity of 3600 lbs.
Volume Capacity of 75 ft
Molded from durable polyethylene
Steel base can be customized to utilize existing conveyor systems
Various colors available
Various Caster arrangements available
Cargo Net or Easy Access Tri-Fold Door Available
Truck Shipping Container Tri-Fold Door Video
Truck Container Photo Gallery
Click any of the Truck Shipping Container Images Below for them to open in a larger lightbox gallery.
Truck Shipping Container Links
Truck Shipping Container Information
For more information on the Truck Shipping Containers, click below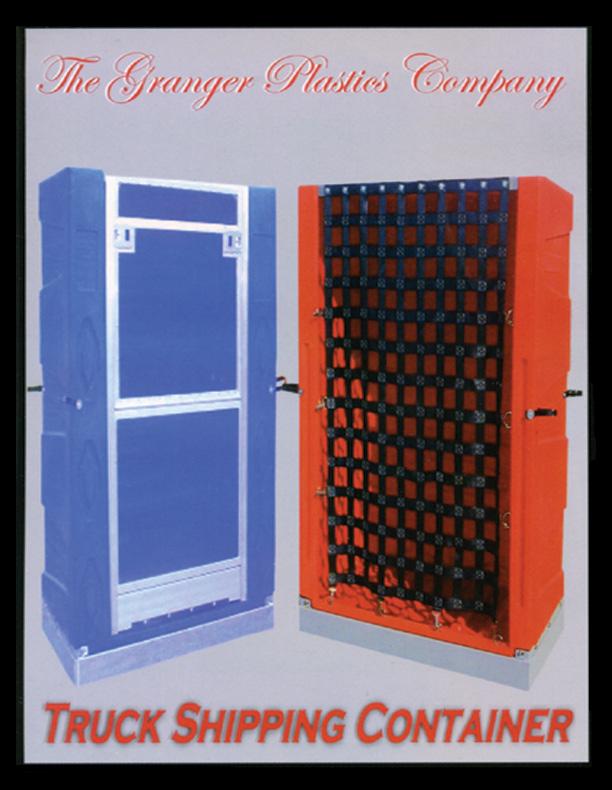 Granger Plastics On Instagram
This error message is only visible to WordPress admins
Error: There is no connected account for the user 17841401893363818.