Rotomolded Food Grade Products
Granger Plastics Company has been rotationally molding certified prime virgin materials since the inception of the company. Because of Granger's stance of not running any off-grade or "wide-spec" materials, coupled with Granger's on-going pursuit of high-quality, Granger is the perfect candidate for your food application rotational molding needs! Using USDA/FDA certified prime virgin materials for food contact, Granger can successfully take your food product or food processing product from start to finish by assisting with the rotational molding design to ensure it's moldability, build your tooling or oversee the completion of your tooling and then take it right through production! Even stock product and drop ship to your facilities around the World if that is what your operation requires!
While polyethylene is the most common material for the rotational molding process, Granger has also found that polypropylene is a great fit for a number of rotomolded food grade applications because of its enhanced abrasion resistance and its ability to withstand elevated temperatures. Granger Plastics also has partnerships with other companies who have the ability to enhance the physical properties of molded components in a secondary process which will give the products superior strength and able to withstand elevated temperatures. Some food applications require heavy wall polypropylene parts, which Granger Plastics was capable of molding at unprecedented wall thickness levels that were never previously experienced by many experts in the rotomolding industry.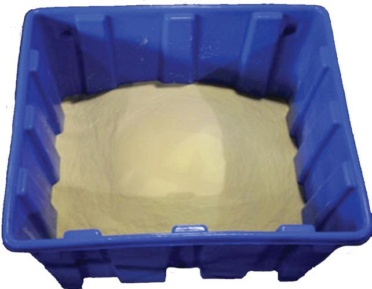 Food Grade Bulk Storage Bin

Granger Plastics also touts an ability to hold tighter tolerances than most of the rotational molding industry's accepted standards. This allows Granger to be successful in working with many companies on converting products to the rotational molding process such as stainless steel. Being able to convert a product or component from stainless steel to a polymer based product allows for substantial savings and process improvements for a growing number of customers.
With Granger Plastics offering a complete single source rotational molding supply operation, complete with in-house molds, secondary trim & assembly, packaging and drop shipping, it continues to make since why Granger Plastics Company should be your partner in rotational molding.
Rotomolded Food Products Photo Gallery
Click any of the Custom Rotomolded Product Images Below for them to open in a larger lightbox gallery.
Rotomolded Food Products Links
Granger Plastics On Instagram
This error message is only visible to WordPress admins
Error: There is no connected account for the user 17841401893363818.