Bulk Storage Containers
Granger Plastics' GP1004 Bulk Storage Containers provide durable bulk storage and shipping options to a multitude of industry and market leaders. The nearly indestructible storage container by Granger Plastics features durable roto-molded construction that can give your materials and items durable, long-term storage options. Because of the versatility of these bulk storage containers, they could be used by essentially every company because of its durable, rugged construction.   Tens of thousands of companies and operations routinely rely upon much less sturdy, cardboard and paper board containers that cannot endure the same use and stresses that a rotationally molded bulk storage container can. The resilient, re-usable containers offer a long-term cost savings while reducing the prospect of hazardous materials to our environment.
Granger Plastics designed, developed and created the GP1004 Storage Containers for a wide array of industrial and commercial usages consisting of warehousing, storage space, shipping, production and a plethora of other uses that our customers have told us about. With a rapidly growing consumer base for industrial uses, the bulk storage containers offer a multitude of long lasting uses for years to come. Rotationally molded from USDA/FDA approved materials for food production, handling and/or storage, the GP1004 containers can provide a solution to a multitude of requirements. The containers nest for easy storage as well as shipping and will stack on top of some other packed containers.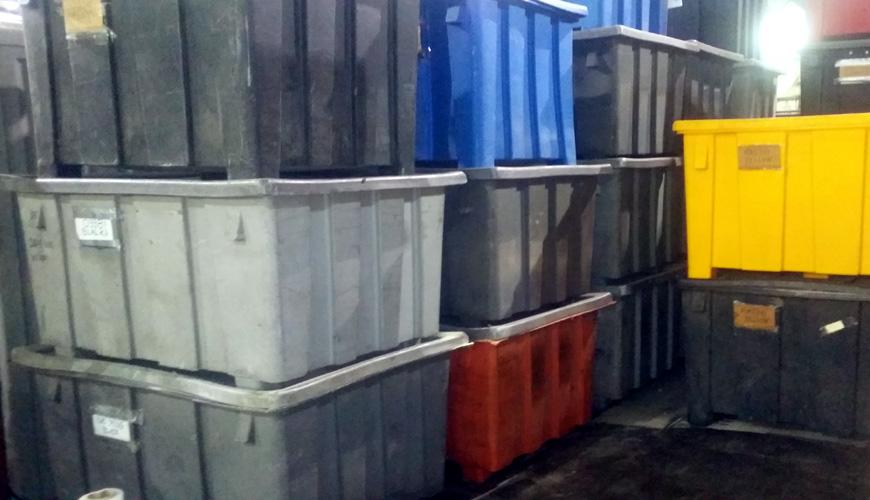 Great for warehouse or industrial bulk storage uses!
With an ever expanding intent of uses, the GP 1004 Bulk Storage Containers supply a solution to a diverse range of applications. Eliminating disposable, quickly damaged cardboard containers, the resilient rotationally molded bulk storage containers provide more resilient, much longer lasting solutions that can improve production efficiency. Whether for safe inventory storage of products in a warehouse or for the secure storage of tools or components on a job site, the GP1004 Bulk Storage Container has you covered!
Heavy Duty Bulk Storage
A number of customers have asked to utilize the Bulk Storage Containers in a fashion which would allow the clients to fill the containers with water or fluids with little displacement of the containers side-walls. Thus Granger Plastics Company designed and developed a support ring that provides the necessary structure and support to completely fill the GP1004 Bulk Storage Containers with fluids. Some customers are even using these in their aquaponics or other grow operations.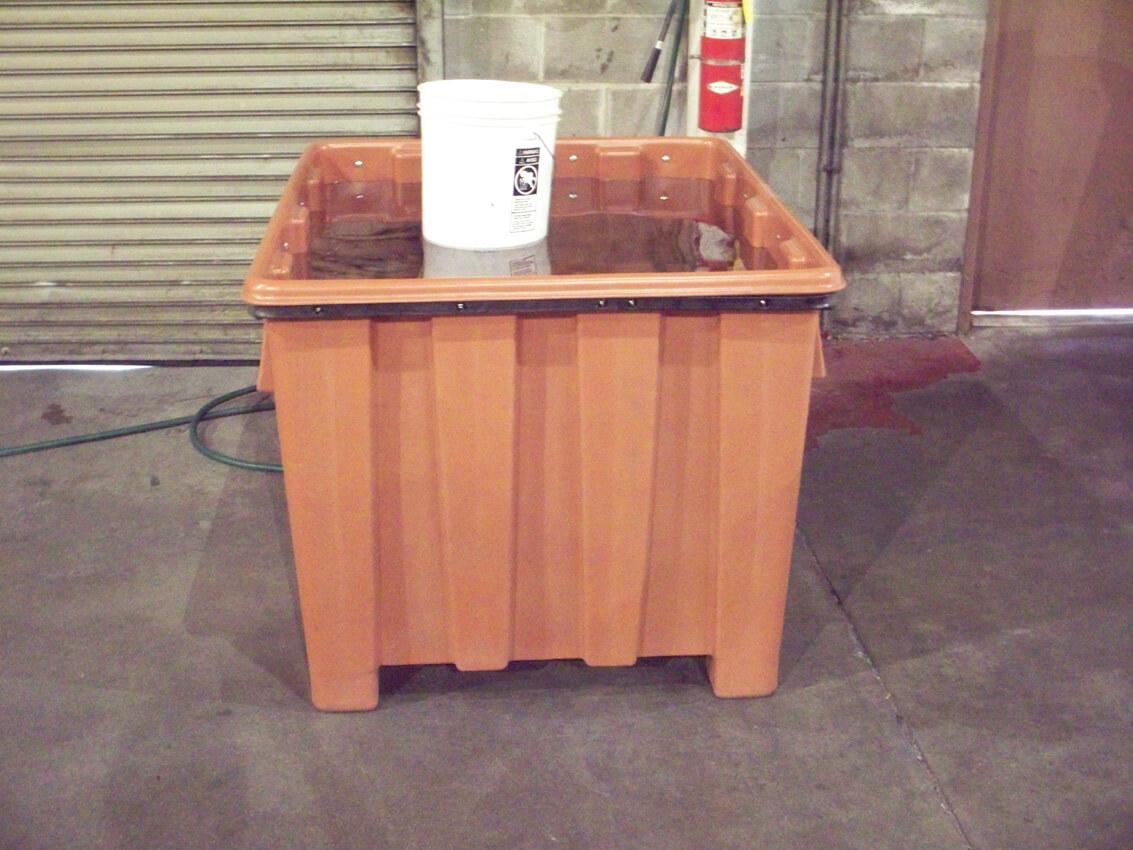 Bulk Storage Container holding 300 Gallons
Bulk Storage & Shipping Container Dimensions
Capacity (Pounds) 1,200
40 Cubic Ft. Capacity
Outside Top 51″ L x 43″ W
Bottom ID 42″ L x 39″ W
Overrall Height 36″
Bulk Storage Container Features
Lid included
Stackable
Nestable
Easily Cleanable, no sharp corners
Four-way forkliftable
Available in USDA/FDA approved materials & recycled materials
Chemically resistant- Call for chemical compatibility list!
Colors at no extra cost!
Available with a wide range of drains and fittings!
1200 pound capacity
40 cubic foot capacity
Heavy Duty Liquid Holding Options available
Bulk Storage Container Gallery
Click any of the Bulk Storage Container Images Below for them to open in a larger lightbox gallery
Bulk Storage Containers in use at a metals recycling facility
Watch in the video above as the GP1004 Bulk Storage Containers are used inside of a scrap Steel and Aluminum Recycling facility!
Bulk Storage Containers Video
Bulk Storage Container Lid Gets Ran Over In Traffic
Watch in the video above as the lid to a Bulk Storage Container was dropped on I-40/I-44 in Oklahoma City, Oklahoma. You will see multiple vehicles run over the lid with little to no damage. The lid was rescued from the traffic, put back on the container and strapped a little tighter this time.
Bulk Storage Container Links
GP1004 Bulk Storage Container Information
For more information on GP1004 Bulk Storage Containers: Click Below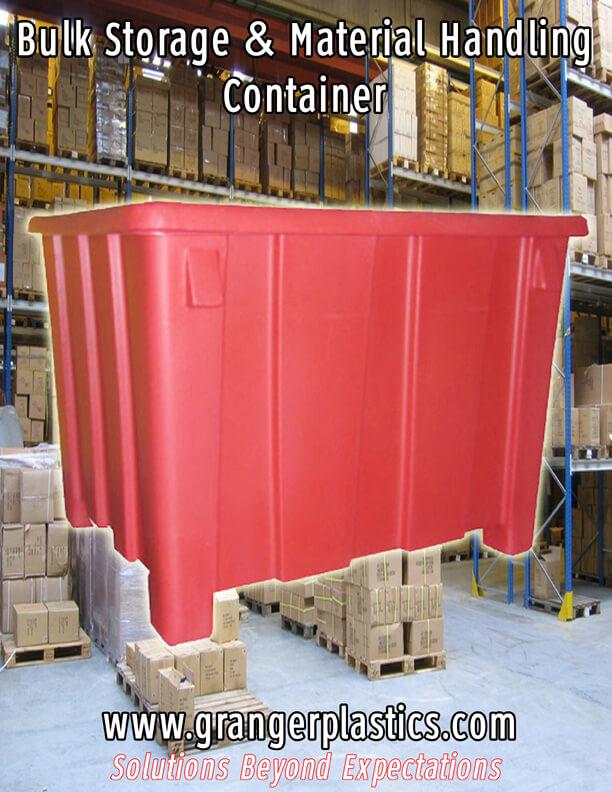 Granger Plastics On Instagram
This error message is only visible to WordPress admins
Error: There is no connected account for the user 17841401893363818.