Intermediate Bulk Containers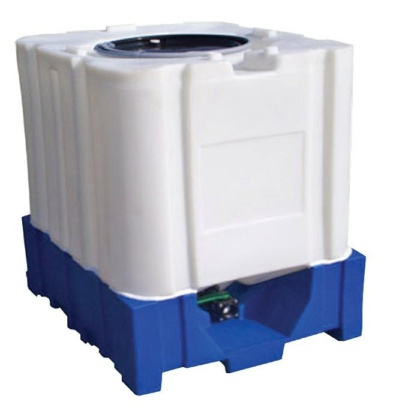 275 Gallon All Plastic IBC "The Avenger"
The 275 gallon, all plastic intermediate bulk container appropriately known as "The Avenger" by Granger Plastics features wickedly impressive strength, touting a 5/8" wall thickness, as the hopper bottom ibc tote was designed specifically to feature the ability for storage and material handling of 2.5 specific gravity materials. The all-plastic tote offers a growing range of uses from chemical & solvent production to dry goods such as food ingredients or construction materials. The durable and robust construction of the all-plastic intermediate bulk container allows for years of service use in your operation or production facility!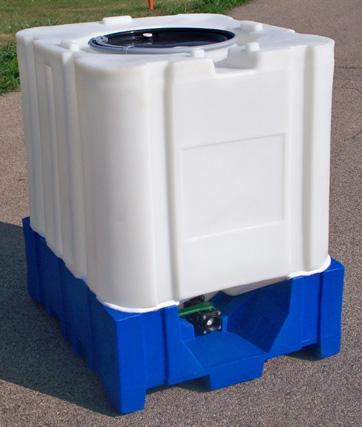 275 Gallon All Plastic Rotomolded Hopper Bottom Intermediate Bulk Container

Granger's impressively durable "Avenger" Hopper Bottom IBC benefits from being manufactured from the rotational molding process. The roto-molding process allows for the "Avenger" units to be far more rugged and durable for industrial and production uses over typical, disposable blow-molded variants. With the less durable blow-molded variants being extremely common throughout the world, the "Avenger" was designed to be inter-stackable with most disposable intermediate bulk containers, thus it can adapt to a variety of operations and systems. Featuring the incredible 5/8" wall thickness makes the rotationally molded IBC one of the most durable tanks molded in the marketplace.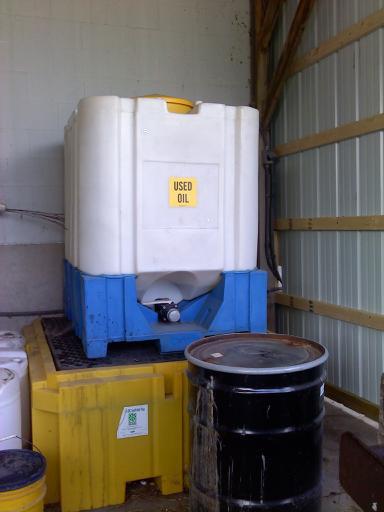 275 Gallon Plastic IBC storing Used Oil
With a tare weight of 280 pounds and capacity of 275 gallons, featuring smooth interior walls and a hopper bottom for positive drain, the "Avenger" offers a multitude of varying uses. The IBC tote features 4-way forklift access while the large, 23" drum lid opening makes for easy cleaning, filling or emptying of the container. The container can also be outfitted with Food Grade Valves and fittings to provide solutions in a food processing or packaging operation.
Granger's IBCs are extremely durable and long lasting, providing your project or operation a material handling or material storage solution for years to come. Custom Intermediate Bulk containers can be designed and manufactured to operate and function precisely to your needs. If you have a custom IBC application that requires production volumes of rotomolded solutions, contact Granger Plastics!
275 Gallon Intermediate Bulk Containers Gallery
Click any of the 275 Gallon IBC Images Below for them to open in a larger lightbox gallery.
275 Gallon Avenger Intermediate Bulk Container Features
23″ drum lid opening for easy cleaning and access
2″ polypropylene ball valve
Inter-stackable with most disposable units
Four-way fork lift access for easy handling
Capable of storing 2.5sg materials
60 units per 53′ trailer!
Incredible 5/8″ wall thickness of Prime Virgin polyethylene
275 Gallon Intermediate Bulk Container Links
Avenger 275 Gallon IBC Information
For more information on the 275 Gallon Avenger Intermediate Bulk Containers: Click Below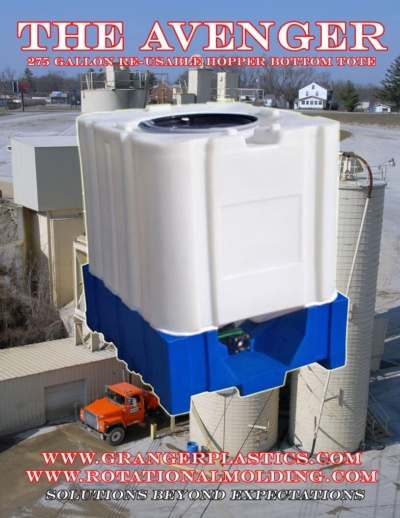 Granger Plastics On Instagram
This error message is only visible to WordPress admins
Error: There is no connected account for the user 17841401893363818.