400 Gallon Intermediate Bulk Containers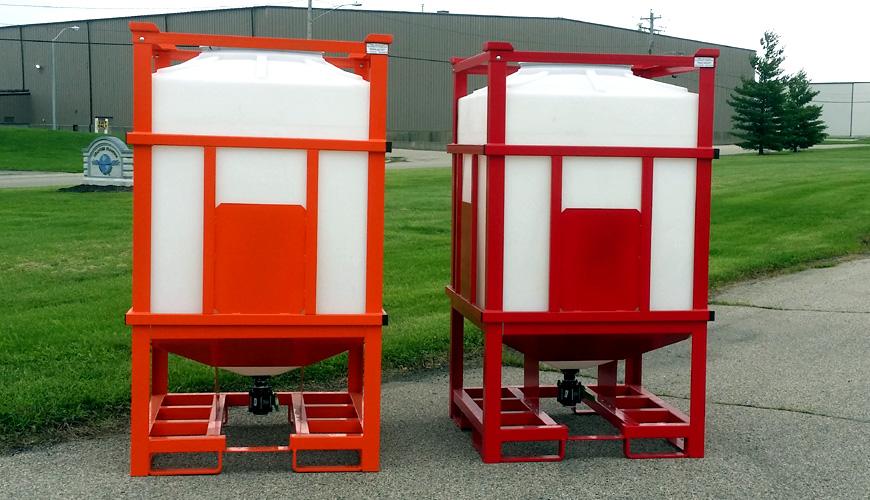 Granger offers it's durable Intermediate Bulk Container in 400 gallon capacities in addition to it's 330 gallon model. The 400 Gallon Intermediate Bulk Containers is also offered in both 33 and 45 degree configurations for both liquids and solids. The hopper bottom totes are also offered with vertical or right angle discharge to suit your operations needs. When ordered in volume quantities, the rack for the IBC can be custom painted for easy identification and operations efficiencies. The heights of the racks are capable of being built to specific heights for custom solutions. Learn more about the 400 gallon intermediate bulk containers below!
400 Gallon IBC Containers Gallery
400 Gallon Intermediate Bulk Container Features:
330 Gallon or 400 Gallon units available
Bottom or Side (Right Angle) Discharge
Hopper bottoms available in 45° and 33°
Four-way forkliftable or pallet jack access
Standard 55 gallon (23″ opening) Poly lid for easy cleaning access
Translucent walls to see product level
2″ Full port polypropylene bolted ball valve (bottom discharge)
2″ Full port polypropylene bolted ball valve w/ 2″ stainless steel street elbow (side discharge)
Bottom supported on all 4 sides with marker plates on all sides
Powder coated steel rack
Custom Rack Heights available
Custom plates for mounting pumps, motors & equipment available
Custom rack attachments including uni-struts and more available
Available as a Conductive Intermediate Bulk Container for static and safety concerns.
400 Gallon Intermediate Bulk Container Links
400 Gallon IBC Information
For more information on the 400 Gallon Intermediate Bulk Containers: Click Below