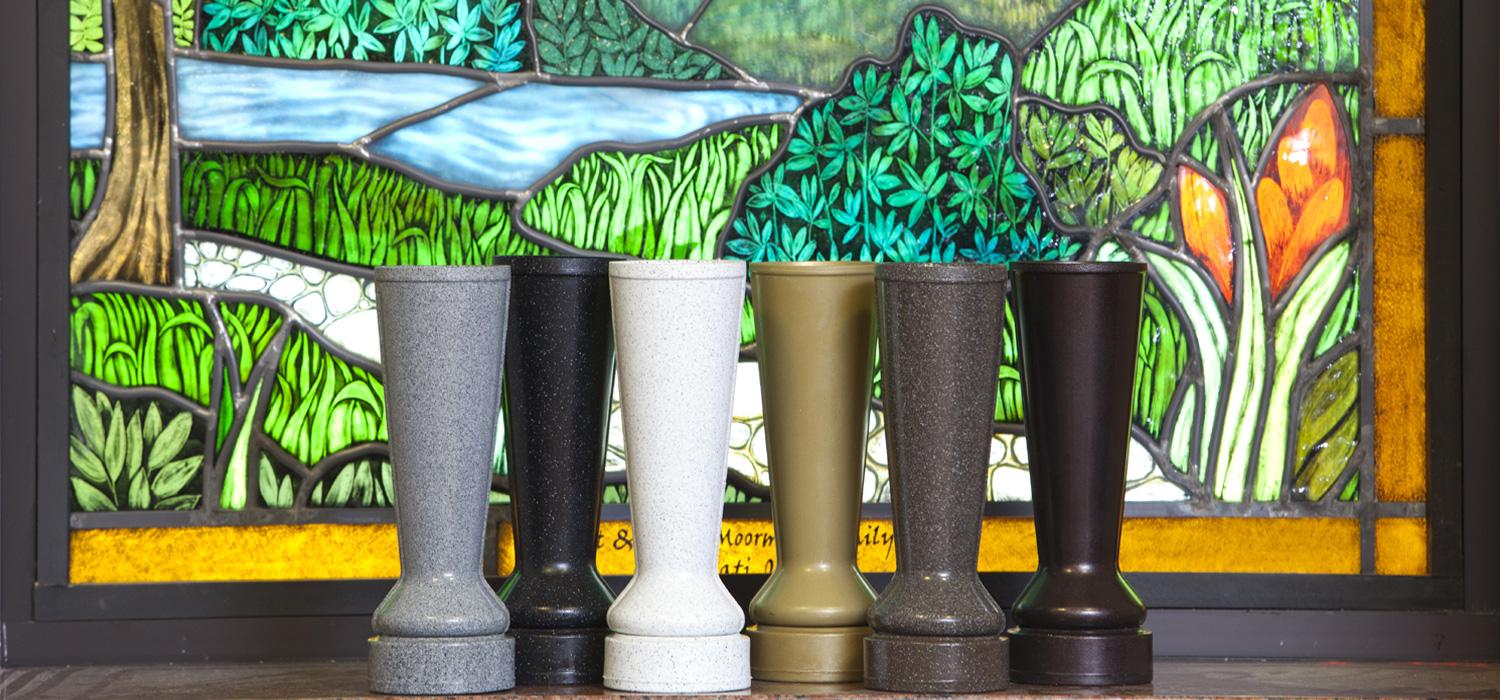 Cemetery theft is quickly becoming one of the most tasteless crimes to spread across the United States. Whether stealing the flowers or anything of scrap metal value that can be sold as such, cemeteries are quickly becoming frequent targets of such tacky and tasteless crimes. Throughout rural and urban areas alike, the theft of cemetery flower vases has almost become common-place as socio-economic factors such as drug abuse takes its toll on respective communities, suffering from such issues as cemetery theft. Granger Plastics Company was specifically asked several years ago by a contingent of Funeral Home and Cemetery Owners how they could assist in this plaguing issue, which garnered the development of ForeverSafe Products.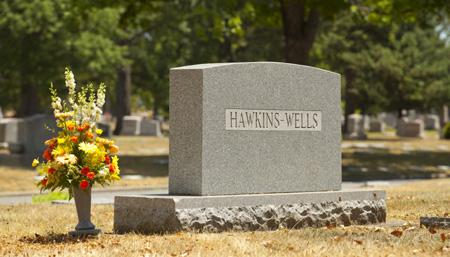 ForeverSafe Products Theft Deterrent Cemetery Flower Vase
Theft Deterrent Cemetery Vases
The cemetery vases by ForeverSafe Products, a division of Granger Industries, were developed to help families combat the ever increasing tasteless crimes of cemetery thefts. Unfortunately all over the World, cemeteries are common targets for easy thefts, as nearly all of the items that are commonly stolen are typically sold as scrap metal to a local scrap metal recycling center. While the thieves are only making a few dollars off of each vase theft, the families left dealing with the stolen property and the expense of replacing the cemetery vase, marker or both, possibly costing hundreds of dollars, if not thousands of dollars. Because of these growing problems and issues, Granger Plastics Company launched ForeverSafe Products, a line of theft deterrent cemetery vases and cremation urns. The cemetery flower vases are available as a new vase and canister set, a replacement cemetery vase to replace stolen vases and as an occasional vase, which functions as a stand-alone vase, not requiring a canister or marker, as it features a long stainless steel spike which allows it to be inserted into the ground wherever you may need to memorialize a loved one.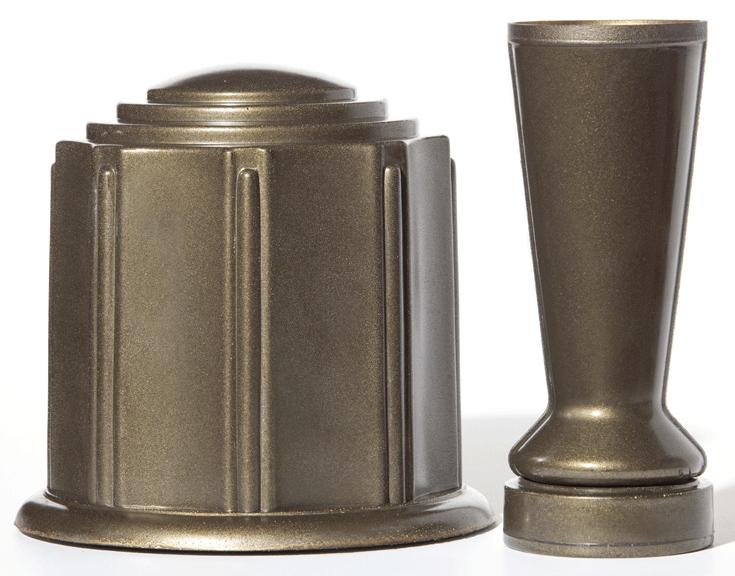 All ForeverSafe Urns can be paired with a matching vase of Vase & Canister Set.
Replacement Cemetery Vases
ForeverSafe's proprietary color offerings seamlessly match and blend well with common headstone or marker colors and materials. Our granite-like finishes come in several colors such as grey granite, black granite and white granite, while several others offer a metallic-look finish, such as the ForeverSafe Antique or Mahogany. These attractive offerings allow you to bring flowers forever, as the polymer based materials that compose the cemetery flower vases is of no value to the scrap metal thieves who are looking to make a quick buck by stealing something made of bronze, brass, aluminum or even steel and selling it off to the local scrapyard or recycling center.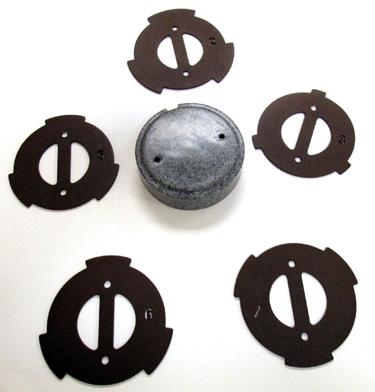 Bases for Replacement Cemetery Vases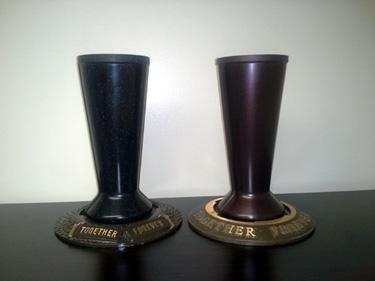 Replacement Cemetery Vases to fit most manufacturers and memorials.
Cemetery Flower Vase & Replacement Vase Features
Produced from the highest quality Polyethylene materials
1/4" wall thickness
Available with many effects including life-like granite &, metallics
Includes neoprene gasket and anodized aluminum plate
Waterproof (please see video demonstration below)
Plastic material deters urn from theft unlike metal counterparts
Impervious to weather conditions
Value added savings in comparison to precious metal counterparts!
Matching Cremation & Burial Urns availale in Round & Rectangle
Occasional Vase
The ForeverSafe Occasional Vase is a collection of spiked or staked vases that offer long term resilliency while providing an attractive option to bring flowers to your loved ones memorial. The beautiful, re-usable vase is ideal for families looking for an option to bring flowers to a memorial or headstone, where no vase and canister or maker vase exists. No digging of any holes, just screw in the stainless steel metal spike and insert the spike into the ground near your loved one's memorial.
| | |
| --- | --- |
| ForeverSafe Occasional Vase Assembled | ForeverSafe Occasional Vase |
Occasional Vase Features
 Vase able to stand alone in service
Can be used with the stake graveside
Immediate solution to a vase need
Allows for a neat uniform look in cemetery
Stake easily assembled
Stainless Steel Stake
Impervious to the elements
Reusable
Available in many colors
More and more cemeteries are facing theft, as one of the most commonly stolen items in cemeteries across the nation are cemetery & memorial vases. ForeverSafe™ is the name you trust for high quality replacement cemetery flower vases when families are hesitant to replace with bronze or other precious metals. But what about the immediate need of having a vase stolen or families that would like to place flowers at a grave with no vase? The ForeverSafe Occasional Vase has the solution to solve these issues!
Cemetery Flower Vase against a Weed Eater
Watch in the video above as a durable, ForeverSafe Products, rotationally molded cemetery flower vase is pitted directly against a Weed Eater, with the string intentionally attempting to damage the cemetery vase. You will see in the video, the vase easily withstands the direct impact and abuse provided by the Weed eater. The ForeverSafe Cemetery Vases are far more durable than the green injection molded competitors, while offered in a number of colors or finishes, ForeverSafe Products allow you to bring Flowers forever!
Complete Vase & Canister Sets
ForeverSafe Products offers complete cemetery vase & canister sets, as an alternative to the bronze and other metal based cemetery vase productions that are being stolen from cemeteries across the United States. The complete vase & canister set can be an affordable option for any headstone or marker, With a high quality finished look featuring theft deterrent materials, the ForeverSafe cemetery vase allows you to bring flowers to your loved ones memorial without the fear of the vase being stolen and sold for scrap metals!
ForeverSafe Cemetery Vase Colors
Click any of the ForeverSafe Cemetery Vase Images Below for them to open in a larger lightbox gallery
ForeverSafe Cemetery Vase Links
Cemetery Vase Information
For more information on the ForeverSafe™ Cemetery Flower Vases: Click Below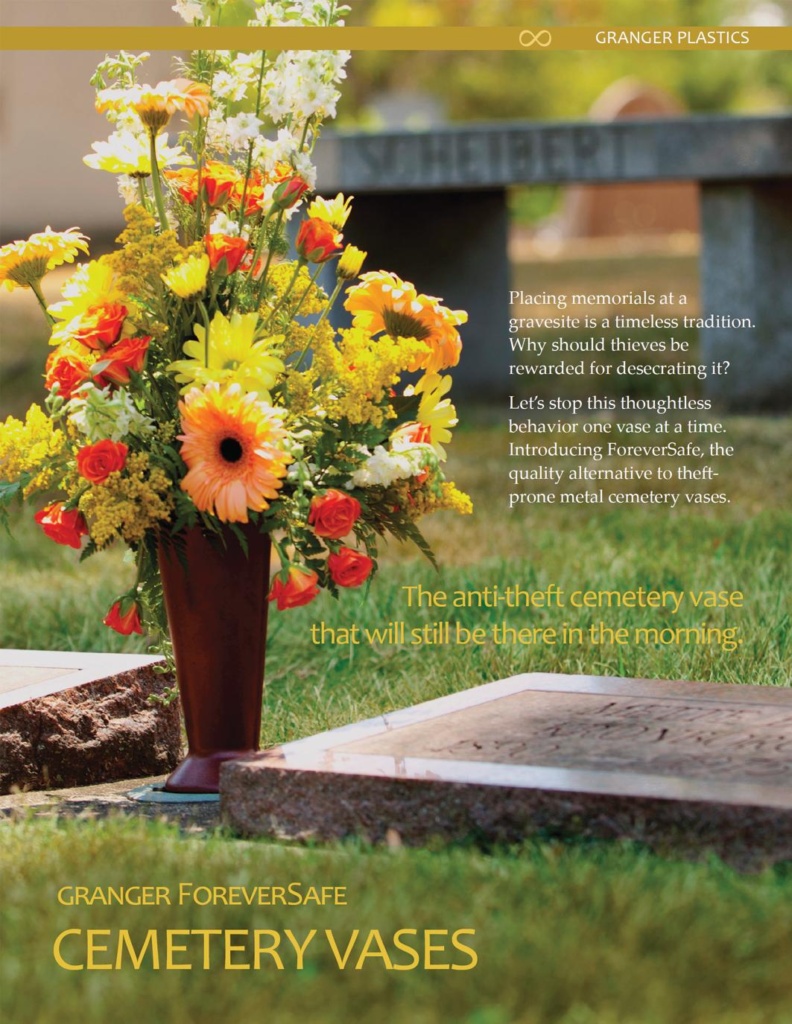 Granger Plastics On Instagram
This error message is only visible to WordPress admins
Error: There is no connected account for the user 17841401893363818.