Aquaponics is the marriage of aquaculture (raising fish) and hydroponics (the soil-less growing of plants) that grows fish and plants together in one integrated system. The fish waste provides an organic food source for the growing plants and the plants provide a natural filter for the water the fish live in.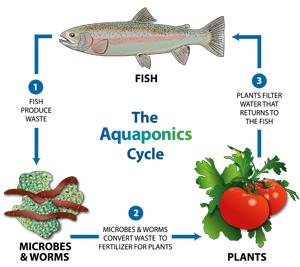 Breakdown of the Aquaponics Cycle

Granger Plastics Company was integral in the rotomolding design and implementation of a custom rotationally molded Aquaponics System. This system, consisting of a grow bed, a fish tank is the perfect first time Aquaponics enthusiast or the long term aquaponics expert. When coupled with the steel grow bed stand with casters for a neat but flexible arrangement that allows an indoor or outdoor aquaponics experience.
Rotational Molding and polyethylene is a safe and perfect durable option for the molded construction of the aquaponics sets. Offered in Granite stone-like finishes, the systems are beautiful enough to complement indoor decor while capable of withstanding some of nature's toughest outdoor elements including freezing temps, UV from the sun and more! Thanks to the ultra-resilient polyethylene construction of the Aquaponics sets, the material is capable of expanding and contracting with temperature changes without cracking.
Purchasing a high quality complete system takes the guesswork out of this type of gardening. The many benefits of growing your own food quickly return any investment into setting up a system. While many types of containers can be used to make an Aquaponics system, rotationally molded polyethylene is the preference of many experienced gardeners due to the durability and compatibility of the material with the plants and fish. Systems can be set up small then expanded by adding additional grow beds or fish tanks.
Aquaponics Features
Food Grade Material
In-house manufactured grow bed stand
No soil needed
Durable material means no cracking
Safe for indoor or outdoor use
Click any of the Custom Rotomolded Product Images Below for them to open in a larger lightbox gallery.
Granger Plastics On Instagram
This error message is only visible to WordPress admins
Error: Access Token is not valid or has expired. Feed will not update.